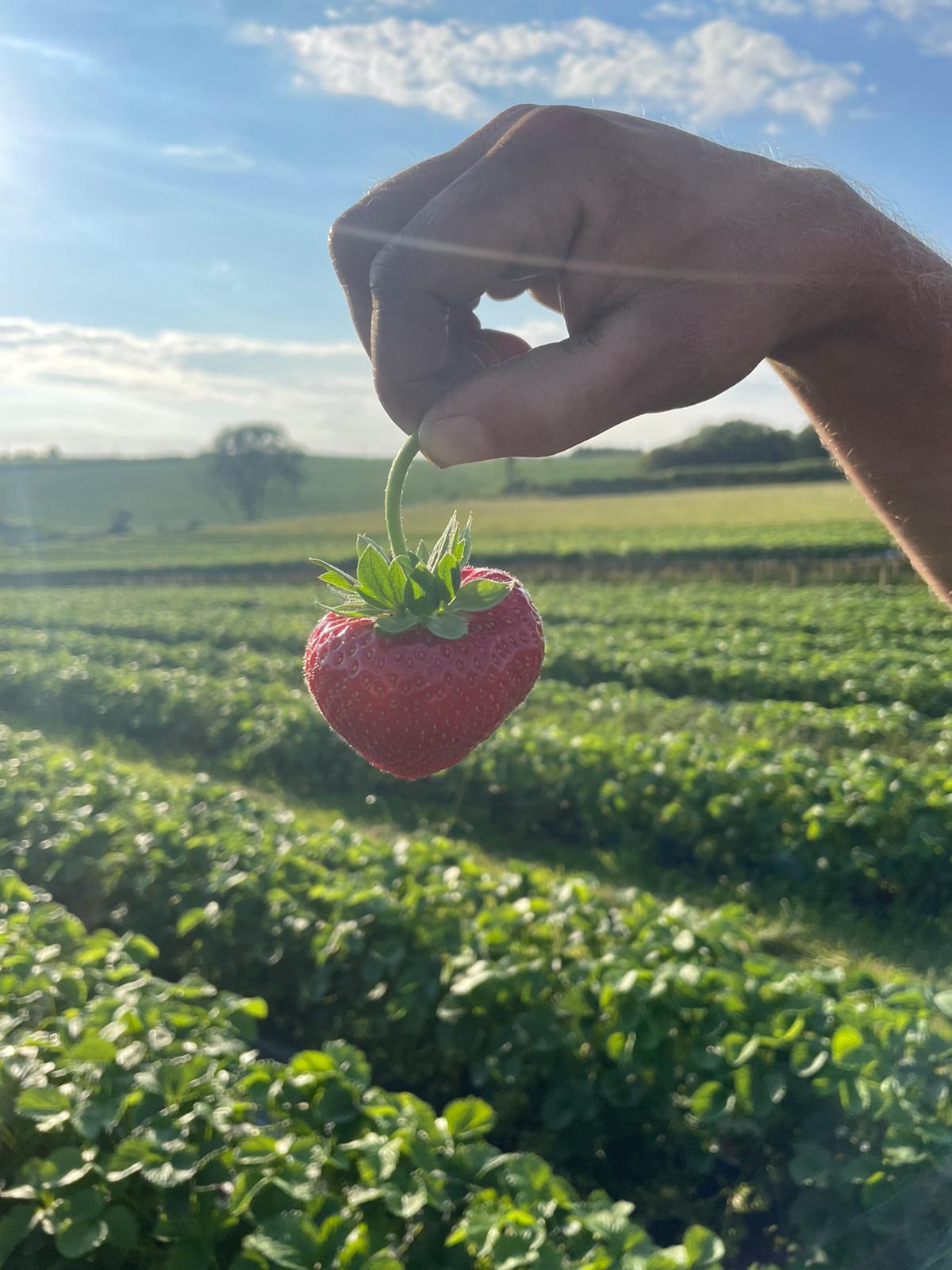 FAQ's
Do you have parking on-site?
Yes, we have a hard-standing car park which has easy access to the farm.
Can I bring my dog?
Sorry no dogs allowed except guide/assistance dogs
Do you have baby change facilities on-site?
Yes, we do have toilet facilities which include baby change facilities as well as disabled facilities.
Do I have to book?
Yes, we operate a ticketing system to allow us to monitor fruit and capacity on site.  When available, tickets can be booked via the 'Book Tickets' button on the website or via the link on social media.
Is the entry ticket per car or per person?
All our entry tickets are sold PER CAR so please purchase one ticket per car. This means you only need to purchase one ticket per car you bring to the site. When you purchase a ticket we will ask how many people are in your party but this is purely so we can monitor attendance numbers.
Do you take cash or card?
We take both cash and card.
What is your postcode?
We don't give out our postcode as it will take you to another farm.  Visit our 'Find us page' for more information on how to get here.
Do you have any gluten-free or vegan options in the cafe?
Yes, we have gluten-free and vegan cake options served in our cafe. If you have any dietary requirements please speak to a member of staff who will be able to assist.
Are you wheelchair & pushchair friendly?
Yes, we are wheelchair and pushchair friendly.  The ground may be a little bumpy in some places but most wheelchairs and prams have been able to access our site. 
Can I bring my own container to pick fruit?
Yes, you are more than welcome to bring your own containers to pick fruit. We also have punnets available to purchase on-site.
It is raining – can I get a refund on my ticket?
No, we cannot offer refunds on tickets for any reason. However, if you create an account when you purchase the ticket this allows you to move your ticket to a more suitable date. We do have undercover polytunnels and a marquee that will allow all-weather picking so don't let the weather put you off.
Will it be muddy?
As we are a working farm, if the weather is poor then it is likely to be muddy.  We recommend wearing appropriate footwear and clothing to combat this.
My ticket is for a 10.30 am session – do I have a time limit? 
No, you can stay and enjoy the farm for as long as you wish.  We release tickets on a timed basis to allow us to manage numbers on site.
How does the strawberry & raspberry PYO work?  
When you arrive you can collect punnets from the welcome desk when you check-in.  A staff member will advise the best location to pick the best strawberries – follow the 'Pick here' signs.  Only pick ripe fruit as unripened fruit will not ripen at home.  When you have finished picking your strawberries, your produce will be weighed and charged by weight at the pay station.  We recommend you wash your strawberries before eating & please only pick what you intend to pay for.
I want to purchase a ticket for a specific time for strawberry picking but none are showing on the website?
This means that tickets for this particular day & time slot are unfortunately sold out. We assess our fruit daily and release time slots when we are able to. Sometimes it will be necessary for us to close our Pick Your Own to allow the fruit to replenish so some dates may not be available. On occasion, we are able to release additional slots on previously 'sold out' days so please keep checking or if you can, please pick another date or time slot which is available.
I want to book a ticket for strawberry picking in 4 weeks' time but the website is not letting me?
We only release our strawberry picking tickets a few days in advance as that way we can monitor the fruit and ensure we have enough to go around.  We would hate to sell tickets and then disappoint people by not having enough fruit to pick.
I accidentally booked tickets per person and not per car – Can I get a refund on the extra tickets I booked?
We are unable to refund the ticket for any reason so please ensure that you book the correct amount of cars and the correct time slot. You can gift the tickets to friends however to avoid losing out.